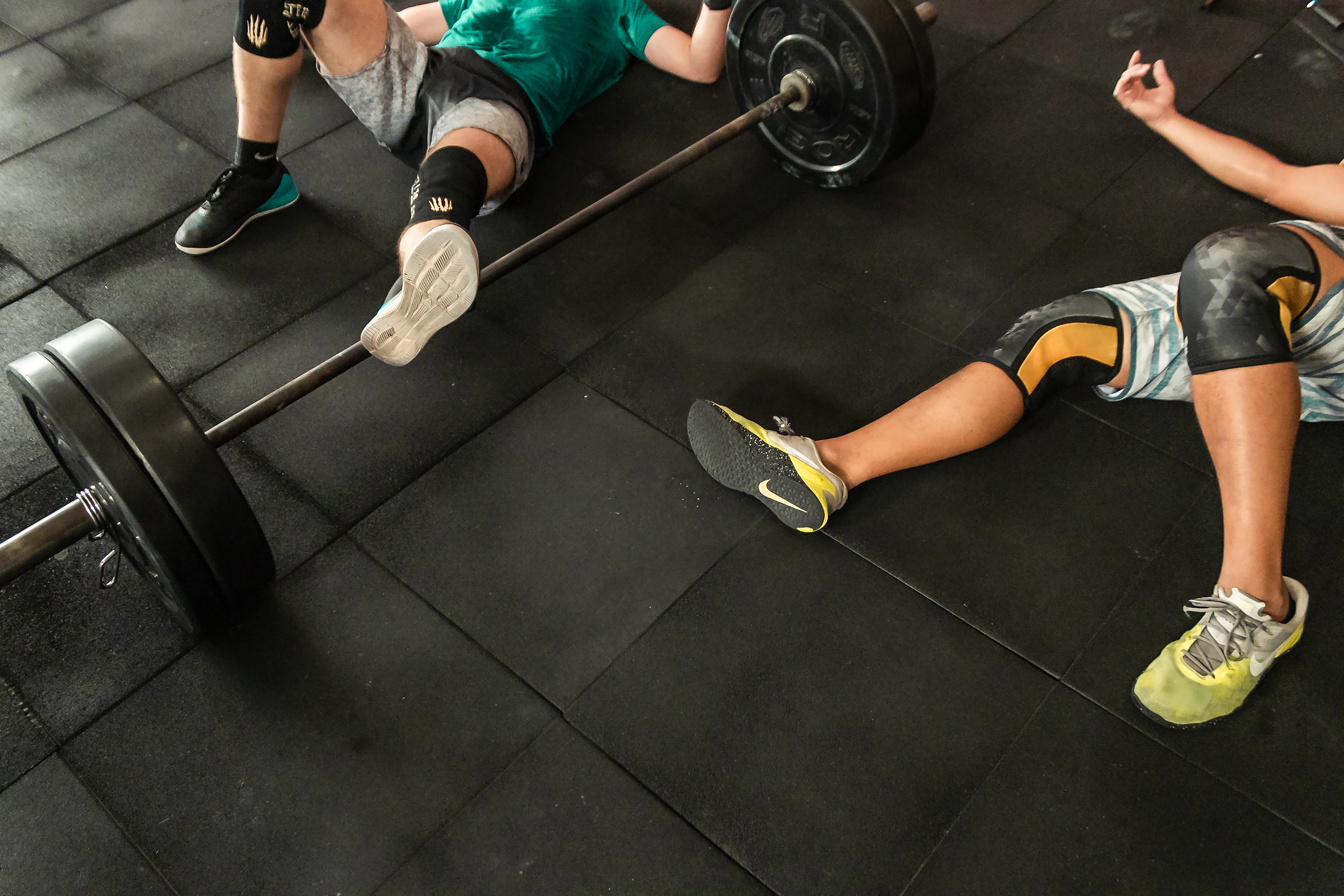 Hosting your very fitness event can be a daunting challenge, with the idea of the final end-product – a fully realised fitness event – seeming an insurmountable task.
Knowing where to start can be the hardest part, but with some experience and the right expertise it's possible to break the project down into smaller, achievable goals – like stepping stones to success. That's where we come in! CaptureFit has been instrumental in getting over a hundred events – obstacle course races, functional fitness and weightlifting events (just to name a few) – up and running and in all of that we've learnt a few things; things we'd like to share with you!
Whether you're a first-timer or old-hat looking to brush up, this curated fitness event planning checklist includes all the details that will help you have your event up and running in no time. Best of all, we've broken it down into bite-size chunks that will make planning even the biggest event a cakewalk!
✅ Date
The date of your event can determine its success and should be prioritised before anything else. A top consideration when selecting a date for your fitness event should be avoiding any conflicting events that take place near or on the same day as yours, possibly impacting your event attendance. Another important consideration is the duration of your event. Depending on the nature of your event this could vary between few hours, or spread over several days, but bear in mind the practicalities involved. Interested athletes might not be able to afford to compete in events close to each other financially and physically and events specifically aimed at kids should take place when they're likely to be home, and not at school or away on school holidays. Probably most important of all when selecting a date is whether or not your chosen venue is available for the full extent of your planned event, taking into account the possibility of needing a day before and after for setting up and taking down the event.
✅ Online or in-person?
The very first decision you'll want to make with regards to your event is whether to have it take place online or in a physical space. While physical and digital events each come with their own set of advantages and disadvantages – for example, the added admin that comes with capturing online event results – CaptureFit supports both!
✅ In-house or public?
If you've opted to host a physical event, you'll need to decide if you want to limit the event to your facility members or open it up to the public. It is less intimidating to do your first event as an in-house event, as you know your athletes and they know you, and knowing that it's your first event they're more likely to be sympathetic to any mistakes. Opening your fitness event up to the public will mean that you need to double-check whether an event permit is necessary, as well as consider the possible need for event liability insurance which differs from venue to venue. If you do decide to do your first event in-house, be sure to make use of our CaptureFit first-timer special, allowing you to test out our system. Contact us to find out more.
✅ Location
Choosing a venue for your event has several influencing factors and needs to be carefully considered. Is it easy to get there? If it's far removed from the city, or set in a rural area, is there accommodation available and enough to cater for all athletes and their families? Does the chosen venue have all the required facilities for your event like toilets, parking, shade in case of very hot weather and, where relevant, storage areas? These are a few of the questions you need to ask when deciding on a location and venue for your event. You also need to keep in mind the weather, if the venue is outside. It might be a good idea to have back up plan in case of rain or strong wind.
✅ Registration
It might seem obvious that getting athletes to compete in your event is the most important factor of them all, simply because without competitors there is no competition, but getting registrations before the day of the event has far-reaching logistical benefits too. Being able to predict attendance, and plan for the capacity is vital as it has some impact on every other aspect of your event, from venue size to cashflow. Some basic information that you'll need from attendees includes the following:
First Name
Surname
Date of Birth (if you have age categories / age limits)
Gender
Team Name (if it's a team event)
Emergency Contact Details (in case of emergency/injury)
Depending on your event you need to decide how many athletes or teams you can accommodate based on your budget, venue size, equipment, number of judges and volunteers.
You could do registrations the old-fashioned way using a paper based, manual system, or forego this tedious and admin-heavy process with the use of a streamlined digital platform like CaptureFit, which automates it for you! CaptureFit allows athletes and teams to register online effortlessly, with users providing their relevant information only once (when signing up for CaptureFit) after which registering for individual events becomes a simple matter of signing the waiver and paying the entry fee.
✅ Payment
It's almost impossible to host an event without funding, so it's vital to set up how you will receive payments. For example, an in-house event might simply deduct the entry fee from the member's monthly debit order; just one of many ways you can arrange payment. CaptureFit supports a host of convenient payment methods including EFTs, as well as credit and debit card payments. We are integrated with PayFast for locally hosted, South African events, and with Stripe for events that take place abroad.
✅ Waiver
With any event that involves groups of participants there is a measure of risk involved and none more than those as physical as fitness events. As the organiser you need to ensure that, while you have considered the safety and wellbeing of the event attendees, you protect yourself and the event against any legalities that might arise, for example in the case of injuries. The use of the waiver will not only alert attendees to the possible risks involved, but will cover you should any such situation occur.
✅ Determining entry categories
Generally fitness events come in two types: those where participants compete as individuals against each other or those where participants compete as teams. Categories (otherwise known as divisions) allow these athletes and teams to compete in-line with their skill level, to create an inclusive event with as many athletes competing as possible. For the sake of being fair these need to be decided upfront, with the rules to qualify for each category made clear. Naturally the more categories there are, the more planning is required and it is important to achieve balance between being inclusive and having too many categories for the amount of competitors; it's no good having categories with just one or two athletes competing! CaptureFit supports both individual and team entries, and even allows for both types at a single event, allowing you to create as many categories as you like.
✅ Marketing
The most perfectly organised event in the world would mean nothing without the competitors, so it goes without saying that when your event is set up and ready to go you'll need to come up with a strategy to get them there! We are no experts in marketing, but we know events; and marketing your event is vital! We've also been around long enough to see that some approaches work better than others. The first and most cost effective marketing strategy is word-of-mouth – starting with family, friends or members of your facility to get the word out. If it's a public event, reach out to your neighbouring facilities and extend an invitation to join. The more people talking about it, the quicker it will grow.
The next option would be to hit social media! We've found Facebook and Instagram works best for us, but this is entirely dependant on your following and the nature of your event. Social media channels are not only a great way to create a following for your event, but to communicate any event news and updates to that following. Another option would be to tackle a wider audience using mass media; printed ads like billboards or magazine placements, or paid digital ads on Facebook and Google. While these channels are excellent for reaching large audiences outside of your network, they can be costly and should only be done through a partner you can trust to get good results. Depending on the size of your event, it might also be a good idea to set up a website, which will not only serve as a central place to keep all event related information, but is highly valuable in making your event easy to find via Google.
CaptureFit offers sites for events of all sizes, from simple one-pagers to sites with a fully functional e-commerce for selling – among other things – merchandise and spectator tickets.
✅ Equipment
Depending on the type of event you plan to host there might be a need for equipment, and if so you'll have to ensure that you organise the equipment in the correct numbers and in good working order to prevent injury and unfair play.
If you own all the necessary equipment this won't be much of a hassle at all, but if you don't it might be a good idea to have an equipment retailer onsite to assist you with your event requirements, and to be on-hand in case of any equipment failure. First prize would be to get them to sponsor this equipment too, as you'll discover it to be one of the biggest expenses otherwise.
✅ Judging and officiating
Judges and officials are essential for fitness events as they ensure fairness and are central in determining the final outcome. It is very important to find judges that have experience or training in the specific activities featured at your event and that all judges make consistent decisions throughout.
When working out how many judges to organise for your event, make sure you calculate enough judges to cover all the lanes in every heat, and even two judges per lane for certain workouts, allowing for rest times for your judges as it takes an immense amount of concentration to ensure no mistakes are made. There are a number of practicalities to bear in mind when thinking about your judges, for example having all your judges wear the same kit will make them stand out, easy to identify and help differentiate from the participants. Judges are only human, so be sure to think about their needs; lunch, water and snacks to keep them happy and sharp between heats and workouts. You might even consider a small payment as a token of appreciation.
CaptureFit provides a helpful feature where judges can sign up for specific events, and be added to a judge database to be used by event managers.
✅ Volunteers
Volunteers are pivotal in the success of events, carrying the bulk of the background work like making sure the athletes are where they need to be and that the equipment is ready for the next heat. Take some time to think about what your volunteers might need. Again, some lunch, water and snacks to fuel them and keep them going through long days, and perhaps a kit or uniform that will make them easy to spot.
CaptureFit provides a feature for volunteers to sign up for events, adding them to a database which can in turn be viewed by event managers.
✅ Vendors
While a fitness event is all about the sport and the competitors, it's important not to overlook the finer details that can make or break your event. Vendors are not only integral in keeping everyone – participants and spectators alike – fed and watered with coffee, water, cool drinks, food and snacks, but they provide an excellent source of extra income and a way for sponsors to showcase themselves.
Deciding on the number and nature of vendors can be tricky but think about the expected attendance, as well as the time of day and year your event takes place in when booking vendors. If your event has an early start, breakfast and coffee are a must. If your event is during a hot time of the year and takes place throughout the day, then plenty of water is vital! Be careful not to run out of water, as this is not only an unacceptable health risk to attendees, but a missed opportunity.
CaptureFit provides a feature for vendors to sign up for events, adding them to a database which can in turn be viewed by event managers.
✅ Capturing your event
Having a photographer or/and videographer capture all the action at your event provides an extra revenue stream in the way of photograph sales, as well as providing you with invaluable marketing material for use on social media, to grow your event following, and in any advertising you might want to create for the next event. If you're planning a larger-scale event you might even consider live-streaming it!
✅ MC
One of the biggest appeals of fitness events is the incredible energy created by the competing athletes and their supporters. Having an MC at your event is a great way to amp up the energetic vibe at your event and keep the supporters up to date with the action, while also providing a practical way to make sure the event flows correctly, announcing upcoming heats and lanes.
✅ Music
A DJ is another time-tested way to keep the energy levels at your event on the up, giving the athletes that extra motivation during their workouts and keeping the spectators smiling, while also being a useful tool to make important announcements. Choose a DJ that can read the crowd, playing the right music at the right time, and make sure the music is not so loud as to drown out the judges, or interfere with team discussions.
✅ Setting your workouts
The challenges set for the competitors can determine the success of a competition, so make sure the workouts you feature push the competitors, while remaining enjoyable. Also remember to think about the entertainment of your supporters; keep the event interesting and diverse to watch, instead of having repetitive workouts. Programme the workouts with the athletes' health and safety in mind, and be sure to adjust them to suit each division and category accordingly.
✅ Keeping score
You'll need scoresheets made up for the judges to capture scores on. These should feature the athlete or team names, as well as the judge's name. It should also have space for signatures from the athlete, team, captain and judge and you might consider including a spot for the heat and lane number in order to track down a name when the details of a scoresheet are hard to make out. After each workout the athlete or team captain and judge need to sign the scoresheet to make sure that they're happy with their scores and/or times. Structure the scoresheet in a way that makes it easy for the judges to track the progress of the workout, as well as for the score capturers who then transfer the results.
CaptureFit offers scoresheet design services, to make sure your score sheet is branded and to ensure it looks professional.
✅ Clipboard
A seemingly small detail and one that is often overlooked, the humble clipboard can make a world of difference to judges and volunteers who often need something stable to press on when recording information. Clipboards are usually last on the to-do list and sometimes forgotten but they make life a whole lot easier, so be sure to have enough at your event.
✅ Leaderboard
Essential to every fitness event is a way to show the current ranking, both for the purposes of the athletes and the spectators. A real-time leaderboard is best, as athletes can see their current standings at any given point.
One of CaptureFit's main features is our real-time leaderboard which instantly gives you the latest standings of the event. As soon as the scores are captured, the leaderboard updates instantly and can be displayed on TV or computer screens and mobile devices, accessible anytime and from anywhere with an internet connection.
✅ Heats
Heats are a great way to break your athletes into groups if your athletes outnumber your judges. Heats consist of a number of lanes; for example in CrossFit (and possibly even other events) lanes are usually placed with the top athlete in the middle, with an athlete from just beneath them on the leaderboard placed on either side. Going down the leaderboard, lanes are filled on either side of the group until all the lanes have been filled. Heats are also normally run with the lowest ranked athletes first and the top athletes in the last heat, giving them the competitive advantage.
✅ Medical care
Of utmost importance to the wellbeing of your competitors is the presence of an on-site medical team; an absolute essential for any event. In-house events can get away with a medical aid kit, as long as you are covered if any injuries occur.
✅ Prizes
As with any competition, the joy of winning is in the recognition; and prizes are integral to that. Whether you have incredible prizes that form a selling point for your event – prizes that you must, of course, follow through on – or a simple lucky draw in the case of a fundraiser, people love to win something, so be sure to have some prizes.
✅ Registration check-in
Registration check-ins are good before the start of each event to keep track of attendance and get any last minute admin – like waivers and goodie bags – out of the way. Some events do check-ins every morning for a multi-day event to track the number of athletes still competing.
✅ Sponsors
Sponsors really come in handy when hosting your event, lending financial aid, or sponsoring prizes and equipment in exchange for brand exposure, but it can be hard to find sponsors when your event hasn't built up a track record yet. When looking for sponsors, we suggest starting with your own network, speaking to any companies that relate to your type of event or currently sponsor other events in the area.
✅ Go!
Once you have your event fully planned, all that's left to do is sit back and let your hard work come to fruition, learning from any little mistakes you might have made for the next one! While we've added everything we feel is integral in planning a successful fitness event, this is a living document and we are always looking to learn and share new tricks of the trade; so if you have some tips to share, we're listening! And if you are thinking of hosting your event with us, we'd be delighted to get you up and running; just click the link below or drop us a mail and we'll set you on your way!
Let us know if you'd like to host an event with us and we will get you up and running:
Click here to create your own event
---